German battery maker bebob have a new, powerful CUBE 1200 high-voltage battery that you can power your ARRI Skypanel or ALEXA cameras for hours.
When it comes to big productions using powerful LED lights and cine cameras you need powerful batteries to keep the lights and cameras going for decent periods of time. Battery technology has been evolving enabling manufacturers to shrink sizes, increase power output and load to accomodate the increasing demands of modern video production.
Bebob also has a range of Micro Batteries and chargers that you can read more about in this post here. The company is also working with ARRI on a new B-mount battery interface for future ARRI cameras.
Munich-based bebob has rolled out their new CUBE 1200 battery that is capable of powering various lighting solutions such as the ARRI Skypanel S60 for more than 2 and a half hours. The bebob CUBE 1200 Li-Ion battery offers a huge 81.6Ah and 1176 Wh capacities enough to supply plenty of juice to big cameras and other LED lights at maximum (420W) power.
bebob CUBE 1200 Features/Specs:
Suitable for power-hungry cameras and lighting

RED, ARRI Alexa LF, SXW W etc.

Maximum load: 480W
Various 5V (USB), 12V (un-regulated), 24V and 48V outputs
48V for ARRI SkyPanel S30/S60 available
AC In: 90-264V / 47-63Hz
Built-in charger
Technology:
Charging time: 8 hours
Dimensions (W x H x D):

8.2"/20.8cm x 14"/35.6cm x 6.5"/16.7cm

Weight:

19.8 pounds/8.95 kilograms

Price: $3,695 at B&H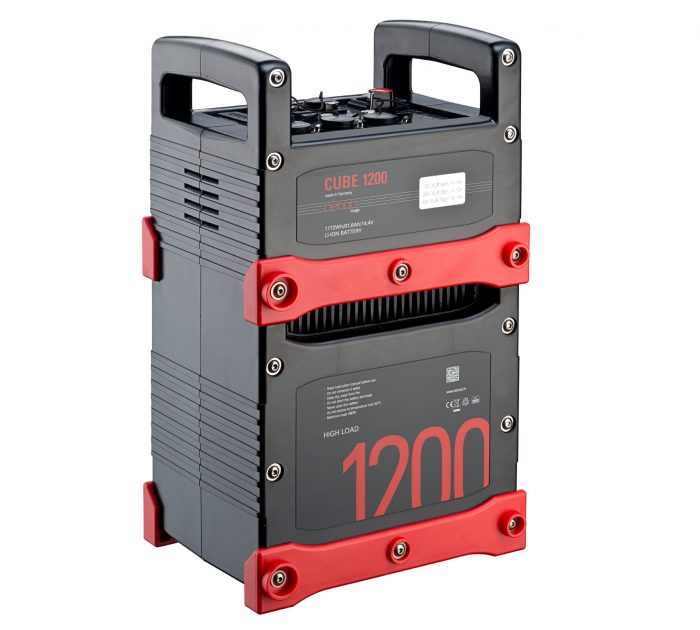 Block batteries are usually heavy and cumbersome, but the new bebob CUBE 1200 is versatile enough to supply up to 150W at 24V or 48V output power to RED and ARR Alexa cameras, however, still keep a relatively low-profile and weigh only 19.8 pounds/8.95 kilograms, including an integral charger and other built-in components.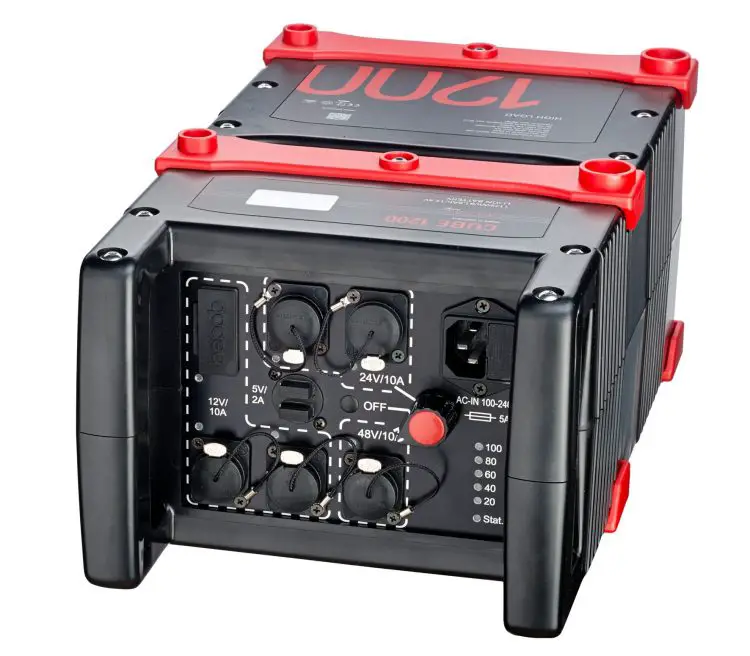 The CUBE 1200 has a relatively small footprint of 8.2"/20.8cm wide x 14"/35.6cm high x 6.5"/16.7cm deep compared to conventional block batteries to conveniently accommodate space-restricted sets. Camera Operators also appreciate its dual integrated top handles, raised feet, and ready access to all outputs and functions.
As with all bebob batteries, the CUBE 1200 is engineered and handcrafted in Germany to the highest specifications. Housed in a rugged enclosure, the battery comes with s a 2-year warranty for 80% capacity. Its modular design provides for easy service, and the possibility to re-cell the battery after years of work when cell capacity becomes insufficient.
Numerous Connections and Built-in Charger
The CUBE 1200 appears to be ready for any power hungry devices you throw at it on set; the high-capacity battery comes with numerous XLR connections for all traditional cameras and lightings including 3x 12V outputs (1 x D-Tap, 2x XLR), 2x 24V outputs, and 1x 48V output.
In addition, 2x 5V USB outputs allow you to even charge your smartphone and/or tablet. The CUBE 1200 also has an integrated charger accepting 90-264V/47-63Hz AC in, for an 8-hour full capacity charge time.
The bebob CUBE 1200 is available to order at B&H for $3,695.
For more information and all other bebob batteries head over to their website here.
Claim your copy of DAVINCI RESOLVE - SIMPLIFIED COURSE with 50% off! Get Instant Access!