Litepanels has released a new firmware updated with some much awaited new functionality for their Gemini 2×1 Soft Panel RGBWW LED lights. The latest firmware update is dubbed C1 and gives a healthy boost to the already capable Gemini 2×1. With the newly released Firmware Update C1, users get more creative control with an extended colour temperature selection, now up to 10,000K, a massive library of popular gel colours along with more extensive DMX and wireless control and many other refinements.
Built like a tank for heavy on set use, the Gemini 2×1 and its Gemini 1×1 little brother, have been designed with professionals in mind, who need a Hollywood caliber RGBWW LED light that can not only produce highly accurate soft light, but also work well in mixed lighting situations.
A while back, the Gemini received a firmware update, which added a Lighting Effects Mode with fully customizable effects such as Emergency Lights, Fire, Strobes, TV flicker, Hue Burst, Fireworks, Party Lights, Pulse and more.
Litepanels GEMINI 2×1 Soft Panel
Variable Color Temperature CCT Mode
Plus / Minus Green Control
Hue, Saturation, Light Intensity Control
6 Litepanels Presets
6 User Presets
Integrated DMX/Optional Wireless DMX
Optional Bluetooth Control
AC or Optional Battery Power
Over 300 Digital Gels
CRI/TLCI:
25 x 6.5 x 12.5″ Fixture
Litepanels Gemini is now $860 OFF at B&H 

Holiday Savings Price – now $3,795!
And more recently Litepanels released another firmware update, which gave the Gemini a new fan control mode and added sodium vapor gels. Firmware Update C1 for the Gemini 2×1 Soft Panel LED builds further upon the strengths of the previous updates.
Litepanels Gemini 2×1 Firmware Update C1 Details:
Wider CCT Range (now up to 10,000K)
Firmware C1 expands the CCT range from 2,700 to 10,000K with full plus/minus green control, giving users the perfect soft white light to match your scene. Previously the Gemini CCT mode maxed out at 6000K.
Expanded Digital Gel Library
Gemini's digital gel library now includes the 300 most-used gels by cinematographers. Each gel can be used with a daylight or tungsten foundation, meaning 600 popular gel colours are instantly available.
In addition to the expanded DMX features, new RDM functionality allows bi-directional communication between Gemini 2×1 and DMX boards, giving you even greater levels of configuration, control and interaction.
The Litenels Gemini 2×1 already comes loaded with extensive DMX features, however in Firmware C1 users get new preset DMX modes for CCT/RGB and CCT/HSI control enabling gaffers and lighting technicians to quickly and easy configure common cine DMX setups. Additionally, major DMX board manufacturers now provide custom profiles for the Gemini 2×1, allowing true plug-and-play functionality.
With more wireless devices filling the air around lighting fixtures, stability is critical. Firmware C1 improves Bluetooth connectivity for perfect responsiveness when you need it.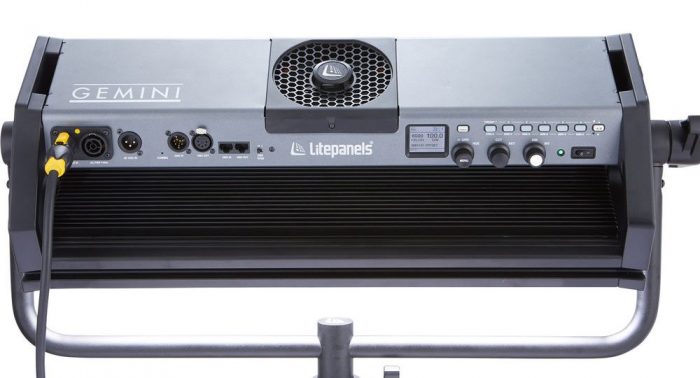 How to Install Firmware Update C1 on your Litepanels GEMINI 2×1 Soft Panel LED
IMPORTANT NOTE: This must be done on a PC computer and the USB must be formatted on a PC running Windows; not compatible with devices running MacOS.
Download the .zip file to your PC.
Unzip the file and locate the .hex file inside the unzipped folder.
Insert a USB drive into your PC and format as FAT or FAT16
Copy the .hex file onto the freshly formatted USB drive
Eject the USB drive from your PC
Power on the Gemini, then insert the USB drive
Push the "Menu" button, select "System" then select "USB" then select "Firmware update"
Follow the screen prompts to complete the update
The LED indicator light next to the power switch will momentarily turn yellow,

then alternate between red and green, then the Gemini will power up.

The update process itself should take less than a minute.
To download firmware update C1 and learn more about the Gemini Soft Panel LED lights head over to Litepanels.
Claim your copy of DAVINCI RESOLVE - SIMPLIFIED COURSE with 50% off! Get Instant Access!