Directors Duo Christopher Schlierf and Benjamin Kratzin, who are known for their big cinematic shots and commercials, recently shot a sci-fi spec trailer with the Blackmagic Pocket Cinema Camera 6K.
Blade Runner vibes are strong with their "Generation Zero" sci-fi trailer, they used to test the Pocket 6K camera. The trailer includes sixteen VFX heavy scenes, and was designed to push the camera's imaging capabilities.
In their own words "… our aim was to see how cinematic we could go with such a small camera. Because of its dynamic range and the low light capabilities, you can just use available light and a couple of small external light sources, which really opens things up for all those creative people wanting to do a film."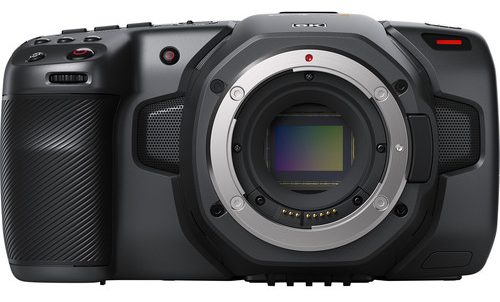 See the trailer for "Generation Zero" shot on the BMPCC 6K:
The lack of strong fixed noise pattern, which can be often create a huge problem with some cameras, was a nice surprise with the Blackmagic Pocket Cinema Camera 6K according to the directing duo. In their interview with Blackmagic, they go on to say that the noise is very constant, thus helping give it that filmic look, and is also easy to de-noise in post-production.
They also decided to shoot the trailer using Blackmagic's own Blackmagic Raw format in the Q0 settings to get the best image quality, which would be required for the heavy VFX work in post, and also used the full sensor in 6K in 16:9 even though they used Atlas Orion 2x Anamorphic lenses, an in particular the 25mm, 32mm and 50mm anamorphic lenses from that range.
If you want to see how the BMPCC 6K and Orion anamorphic lenses do in more natural light scenarios, you can check out this post, which is about another test project with the BMPCC 6K.
"In the end, we decided to shoot in native quality Blackmagic RAW Q0, because we really wanted to beat this beautiful camera as much as we could. We squeezed every last little pixel out of it, because we wanted to see it in full resolution and best quality on our grading monitors.

If you are going to shoot green screen, VFX and special luma- and colour keys then we recommend to go native Q0, but for most regular cases you can save a lot of storage space by using Blackmagic's higher compression RAW codecs."
Much like with the other test shoot I recently wrote about in this post here, Christopher and Benjamin were loaned the BMPCC 6K along with  three Atlas Orion anamorphic lenses which came in very handy with the Blade Runner/dystopian aesthetic they were going for.
"Anamorphic lenses can be quite tricky to work with because they can be very soft when the aperture is opened. But with the Blackmagic Pocket Cinema Camera 6K we just closed down the lens and bumped up the ISO to 3200, which is quite unusual. Throughout the shoot we tried to maintain an aperture of T4, although these Atlas lenses will go to T1.9 or T2, but that can be really soft. And with this shoot we wanted that 'scifi-esk' sharpness."
Blackmagic Design has made 6K source footage from trailer available as a free download from their website here for you to have a play in your own workflow. For more details about the shoot head over to Blackmagic Design.
Disclaimer: As an Amazon Associate partner and participant in B&H and Adorama Affiliate programmes, we earn a small comission from each purchase made through the affiliate links listed above at no additional cost to you.
Claim your copy of DAVINCI RESOLVE - SIMPLIFIED COURSE with 50% off! Get Instant Access!