Every filmmaker needs a collection of dirt-cheap items that just work wonders in a pinch. It goes into the bag of tricks that get pulled out when you need them or just happen to become integral parts of your everyday kit. Could be lights, mounts, clamps, stands, power accessories, or practically anything you find useful on set.
If you are looking to build up your collection you can check out what other people are using, which makes it really nice that Caleb from DSLR Video Shooter put together a list of 20 different accessories that all cost less than $20 each.
1. Compact LED Light
Today, you can actually pick up a decent RGB LED light for just $20. The Andoer RGB LED Light is what Caleb found and he was very impressed with the quality for the price. It has a metal build, an OLED screen on the back, and decent power for the size. This type of light is great for accent or effects lighting and the size means you can throw it anywhere.
2. Friction Monitor Mount
The basics of a friction monitor mount are that it is tightened down enough already that there is no locking or unlocking needed to make adjustments. The ANDYCINE Friction Monitor Mount is strong enough for your average on-camera monitor and allows for fast tilts.
3. Camera Cube Bag
A small, padded cube bag is great for when you are only packing a few pieces of gear and don't want to bring a camera-specific pack. The S-ZONE Camera Cube Bag has enough space and pouches to help you out.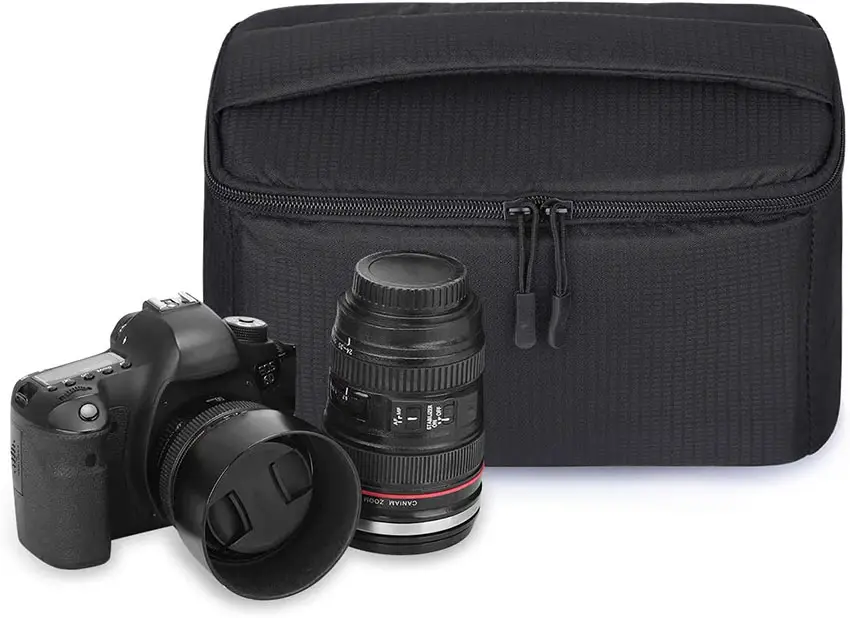 4. Desktop Light Stand
A desktop light stand is a handy addition to your kit as it can mount directly to the edges of flat surfaces like a desk or table—plus it is a lot smaller than your standard light stand. You can use it for lights, cameras, accessories, and more.
5. Articulating Arm
This is basic and something you'll find out about very quickly: an articulating arm. If you want to mount something to your rig and want some flexibility in positioning, the articulating arm is the best choice.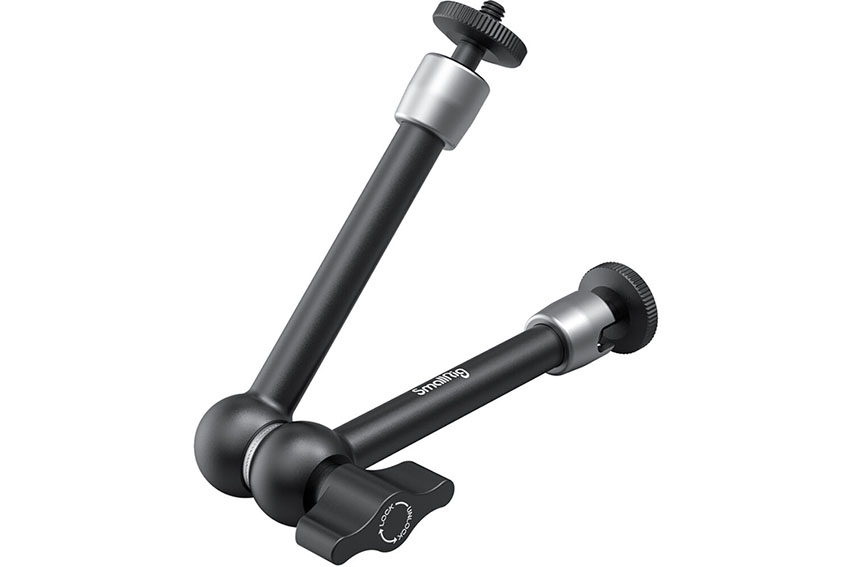 6. Nano Clamps
When you want to mount the arm or other accessories to something other than your rig, say a light stand, nano clamps are exactly what they sound like. They have the common threads for video accessories and can clamp down on whatever you want.
7. Mini Light Stand
For backlights, tabletop use, or anything else you can think of a mini light stand can come in handy. They pack away nicely and can stay hidden if you are trying to tuck away small lights.
8. Mini Ball Head
Mini ball heads go a long way. Mount to all your basics and make it easy to set up and reposition your accessories. You do need to make sure it is solid as that is always the problem with bottom of the barrel options.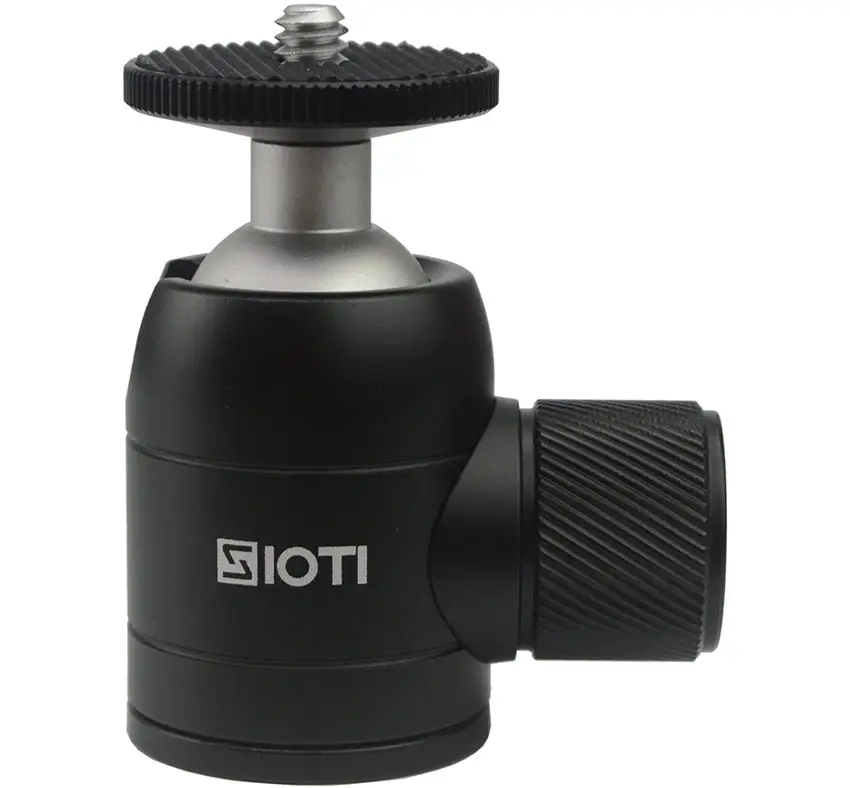 9. Projector LED Light
A unique pick for this list is a Sunset Projection LED Light. It's weird. It is different from many video lights because it creates a nice, sharp circle. Plus, it has adjustable color and throws light very well. It's good for use as an accent light or effects light. It also has fringing which can look cool depending on what you are looking to set up.
10. Lens Pouches
Lens cups or pouches are cheap and effective protection for your gear no matter what type of bag you are using. These are designed for lenses, but you can throw a lot of other stuff into them as well, like mics, transmitters, etc.
11. Mic Stand
Mic stands are cheap and affordable way to mount microphones or to boom small lights. It does exactly what it says so no need to get deeper on this.
12. Wall/Ceiling Light Mount
A different mount you may need is a wall/ceiling light mount. It is essentially just a plate with screw holes that has a standard 5/8" stud with 1/4"-20 thread for getting all your lights and accessories where you need them.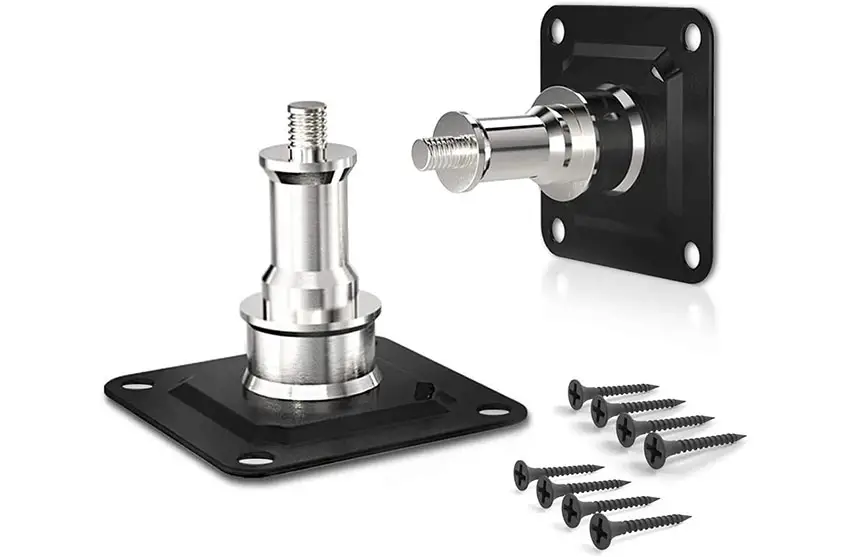 13. Mirrors
Something to think about is adding a few mirrors to your kit. You can bounce light off of them and mount them in unique ways to create an effect you might not be able to get with your conventional lights and modifiers.
14. Protective Wraps
These are some of my favorite accessories. Want to just toss a piece of gear in your everyday bag or a less organized case? Wrap it in a Domke Protective Wrap and it'll get the bump protection it needs. These pack nicely and are very affordable, plus colored options will help you find stuff quickly.
15. Rapid Baby Adapter
The rapid baby adapter is simply the receiver side for the 5/8" stud. What you can do with that is add things like a mini ball head or other accessories to always have them ready to mount to a light stand.
16. Power Squid
What is there to say about a Power Squid? It's a fancier version of a power strip, but each plug on the squid is separately and able to be independently moved. Keeps things much nicer on set and you don't run into issues with plugs being right on top of each other or larger adapters taking up more than one outlet.

17. Accent Lamp
Sometimes you just need to throw some sort of practical into the background of the shot. In that situation it can help to have a couple of your own nondescript lamps that you can use your own bulbs in and get reliable output from.
18. White Markers
White paint pens, or white markers, are super useful since if you want to make notes or mark up some items that are black you will need white writing devices. Most stuff in film is black, so pick up a pack.
19. USB Battery Chargers
You can now easily find a selection of battery chargers for major camera systems that plug in to any standard USB cable and power adapter. They can also usually be found with dual battery slots. It's great for travel and allows you to charge up your batteries using a single charger you already use for other devices or even a USB battery pack.
20. Slim & Right-Angle (90-Degree) HDMI Cables
Finally, you are going to want a good selection of reliable HDMI cables. Caleb's favorite are slim HDMI cables that can be used for all the latest cameras and positioned quite easily. Even better than that, however, is a right angle to left angle HDMI cable. It should help you more easily line up the cable with the ports on your devices without awkward positioning.
Anything you would add to the list?
[source: DSLR Video Shooter]
Order Links:
Claim your copy of DAVINCI RESOLVE - SIMPLIFIED COURSE with 50% off! Get Instant Access!