Video Devices announced their new brand new line of 4K recorder/monitors – the PIX-E series back at NAB 2015. The lineup includes 2 x 5-inch units – the PIX-E5 and 5H, the former of which features both SDI and HDMI connectivity, whereas the least expensive of the two – the PIX-E5H settles for HDMI only. The larger 7-inch PIX-E7 completes the lineup. Ever since release, these recorders have stirred the interested of the filmmaking community, and found homes in quite a few. They may lack 4K Raw recording functionality, but they sure do make up for it in other great features. For example they are super nice monitors, who happen to recorder 4K ProRes; at least that's how Video Devices often refers to them.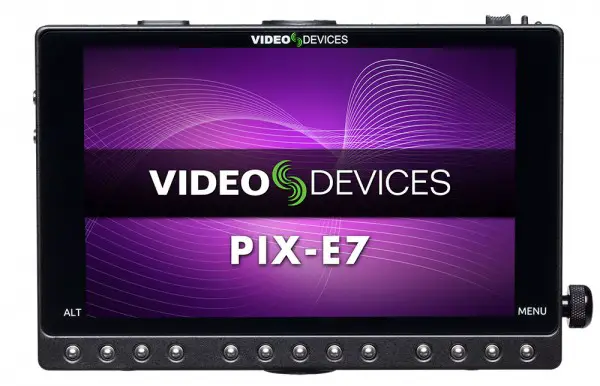 Don't be fooled though, these devices are quite the powerhouses when it comes to features and build quality. For example, the Video Devices PIX-E7 – the flagship 4K recorder/monitor in the PIX-E Series, which has been shipping for about a year now, joining the 5-inch PIX-E5 and the more affordable PIX-E5H boasts the ability to capture both 4K DCI and UHD up to record in an industry standard Apple ProRes codecs up to 4444 XQ 12-bit.
The PIX-E7 also features both SDI and HDMI Inputs/Outputs and sports a beautiful 7-inch 1920 x 1200 Touchscreen Display (in comparison the PIX-E5 and PIX-E5H have a 1920 x 1080 displays). The PIX-E5 series have already received some substantial firmware updates, which enabled 3D LUTs and 4K via 6G-SDI.
Here's 5 more reasons why the PIX-E series Rock!
Out of all the PIX-E series, the PIX-E5 happens to be my favourite. After using it for a few weeks (thanks to B&H for the loaner), I am blown away by the ruggedness, functionality, intuitive tactile controls, and most of all the compact form factor that made a few of my shoots with the Sony FS5 a real breeze.
Those of you who've used the Sony FS5 know that the LCD monitor is not the greatest (it's barely 540p) and the viewfinder is way below par when it comes to accurately relying on it for focus and exposure.
I shot this piece in a heavily backlit exterior scenario with the help of the PIX-E5 (purely as a reliable external monitor, recording was internal).
Sony FS5 EOSHD Pro Color CINEMA – Slow Motion Test from 4K Shooters on Vimeo.
While I am still finishing my full review of the PIX-E5, I thought it would be nice to leave you with some feedback from some industry folks, who've been using the PIX-E series and their thoughts on these recorders.
Here are a few more reasons why some pro's rely on the PIX-E series recorder/monitors:
Order links:
Claim your copy of DAVINCI RESOLVE - SIMPLIFIED COURSE with 50% off! Get Instant Access!