Popular music licensing platform for filmmakers – Artlist is launching a referral program called Friend to Friend, which gets you extra months on your subscription and can even earn yourself a lifetime sub if you refer ten friends or more. Artlist.io launched in a beta version back in 2016 and set its sights on revolutionising the way we license professional music for professional videos, with the full version bringing more than 650 new songs and 120+ new albums to choose from. A few months back, Artlist opened the beta version to everyone; and the full version of the site has been live from March 27th to date.
Artlist are positioning themselves as the filmmaking industry's new go-to library for high-quality licensed music. Art-list.io is available for a flat, yearly subscription fee of $199, which gives filmmakers and visual media creators of all types can get unlimited access to Artlist's ever‐expanding library of high‐quality music.
Artlist has changed the way filmmakers find and license music and has become the most recommended music licensing site around. As a way of saying thanks for the buzz created by those who've already signed up (present company included) Artlist are now offering extended subscriptions for passing on the love.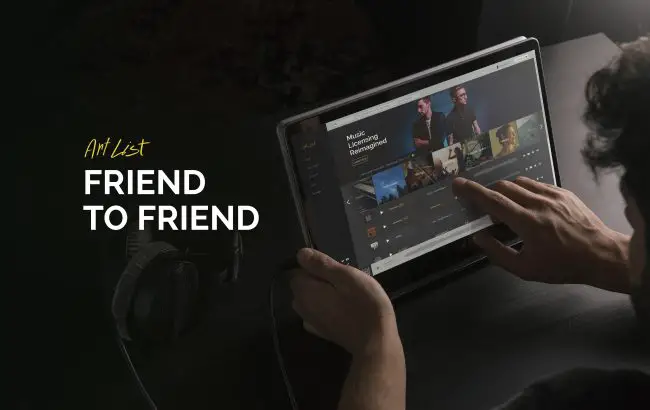 The 'Friend to Friend' dubbed referral program is an easy way get rewarded by Artlist and help out a pal. 
Now every subscriber will have their own personal referral link they can share. Simply send the referral link to a friend and when they subscribe you get 2 free additional months on your subscription. Send it to more friends and watch the rewards grow all the way up to a complimentary lifetime membership.
Friend to Friend Highlights
1st friend – Gets you an extra 2 months

2nd friend – Another 2 months

3rd friend – An extra 4 months

6th friend – A free 1 year subscription

10th friend – A free

lifetime subscription

to Artlist
The friendliest part is that every friend that uses a referral link to subscribe not only helps you out but also receives an additional 2 free months on their subscription; kind of a win win for everyone.
In the words of founder Ira Belsky: We want Artlist to be the go-to music licensing tool for filmmakers and at the same time say thanks for all the great word of mouth that is making it happen.
The music is sourced from a worldwide network of independent musicians, and rivals the quality of today's most prominent music licensing. Speaking from personal experience, that I am sure many of you out there will echo, finding the right piece of music for the job can be extremely frustrating and often time consuming task, which more often than not can end with sub-par results due to approaching deadlines and lack of choice of proper music.
To start your Artlist subscription and browse through their artist catalogue, head over to Artlist.
Claim your copy of DAVINCI RESOLVE 16 - SIMPLIFIED COURSE with 50% off! Get Instant Access!