We're in the second half of 2019, and the filmmaking challenge competitions just keep on coming. And this is fantastic news for those of you looking to get creative and win some cool filmmaking gear. After Rode Microphones and MusicBed, now innovative gimbal maker Zhiyun is organizing a competition that offers a total prize pool of $18,000 geared to creative video makers, who use its innovative gimbal stabilisers and the creative effects they are equipped to perform.
Zhiyun's Top Player Video Challenge 2019 runs until August 31st and is sponsored by world renowned brands such as Nikon, Atomos, Rode Microphones, Aputure, Moma, Lennon, Videogoal and CineHello.com.
Judges include noted filmmakers and brand ambassadors Brandon Li and Rah Sharma, who will be looking for creativity, originality and excellence in storytelling, filmmaking skill and post-production ability. The Zhiyun Top Player Video Challenge competition is open to all video makers who make use of Zhiyun's natural stabilizing "Breathing Effect", Full-Range POV, or Vortex Mode with the Zhiyun CRANE 2.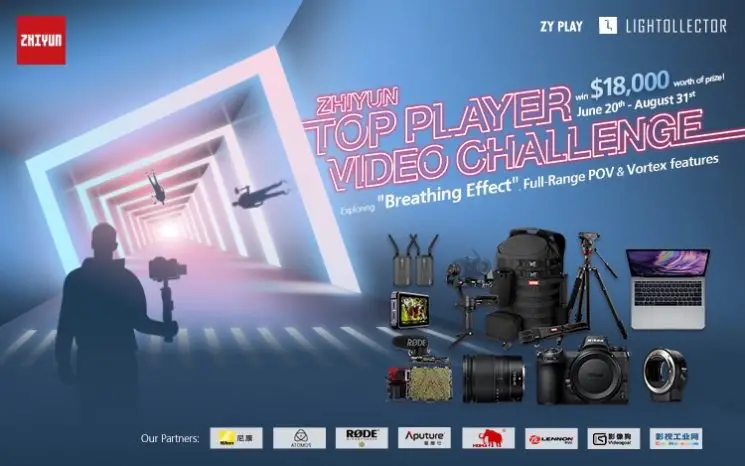 Prizes include a full-frame Nikon Z6 mirrorless camera, a 13″ Apple MacBook Pro, Zhiyun WEEBIL LAB Master Package, Zhiyun WEEBIL LAB Creator Package as well as a huge range of great equipment from other sponsors, such as the Atomos Ninja V, and there are some cash prizes too. In addition, Zhiyun will promote the best winning entries online and even in offline exhibitions.
For a full list of prizes head over to the link to the competition at the bottom of this post.
Zhiyun Top Player Video Challenge Rules:
Create a short video between 30 seconds and 5 minutes
Shoot in resolutions higher than 720p 🙂 and file size > 500MB
You must include of of these gimbal effects (or any combination):

Vortex
"Breathing Effect"
Full-range POV

All submissions must include at least a shot of a Zhiyun gimbal

Total minimum length of shot(s) must be more than 15 seconds

You have to use a Zhiyun gimbal to create your submission
No watermarks, stamps, or copyright music violations etc.
Zhiyun CRANE 2 "Breathing Effect" and Vortex Effect
Finding more about this "Breathing Effect" and an actual link to their latest firmware for the CRANE 2 gimbal proved a bit challenging (I did find a firmware tutorial on their YT channel – see above), as their official website https://www.zhiyun-tech.com/ as of the time of writing this, didn't appear to be working.
Zhiyun Tech say that their CRANE 2 can do this "Breathing Effect", which according to them "provides a great naturalistic stabilizing effect by synchronizing your lens to your movement naturally without being too mechanical." – so I guess this is just like Smooth Track on the DJI Ronin gimbals?
The Full-Range POV is basically a 360-degree synchronous movement on all three axes of the gimbal, which is a neat feature on pretty much all handheld gimbals released in the last year. While the Vortex mode gets you a "flashlight"-like shot of a 360-degree pan axis rotation when you point the gimbal forward. These effects are very creative and can make your videos more flashy, that is if you can find a link to the actual latest firmware…
Seriously, if someone has that link post it in the comments so Zhiyun Crane 2 owners, who have not yet upgraded to it can do so.
How to Enter the Zhiyun Challenge
In short, you have to head over to their competition website – https://lightollector.zhiyun-tech.com/activity?id=256 , upload your video o YouTube and submit the link in the "Activity" section of the competition website, and finally use a the #ZhiyunTopPlayerVideoChallenge and #(equipment you used).
Entries must be submitted before August 31st, and winners will be announced on September 9th, 2019.
For full TC's and details on how to enter the Zhiyun's Top Player Video Challenge competition head over to this link: https://lightollector.zhiyun-tech.com/activity?id=256
Disclaimer: As an Amazon Associate partner and participant in B&H and Adorama Affiliate programmes, we earn a small comission from each purchase made through the affiliate links listed above at no additional cost to you.
Claim your copy of DAVINCI RESOLVE - SIMPLIFIED COURSE with 50% off! Get Instant Access!