Sometimes going big isn't the point. As technology moves on, we see incredibly innovative designs of cameras, computers, and mobile phones.
While their latest generation iPhones may be getting bigger (and thinner) they do produce stunning images, and Apple are going further by putting fast computers into thin 5K monitors, while GoPro are making sure you can capture your wildest adventure in 4K by packing serious horsepower into their latest GoPro Hero4 cameras. Crowdfunding platforms are full of innovative and crazy gadgets, like the fps1000 – a super small camera which can do 1,000 frames per second.
The mini-cam or camera head arena is moving forward as well. So far, we've seen the likes of IO Industries with their 4KSDI camera head, which we covered here, and now Toshiba are announcing the "world's smallest 3-chip 4K camera" – the IK-4K.
The tiny camera head offers an astounding 8 megapixel UHD 3840 x 2160 output and extraordinary detail with up to 1,600 TV lines of resolution. Operators can choose to have the video output at 4K, 1080p and 1080i formats to configure to any HD display and/or broadcast or video application.
With world-class innovation, the IK-4K camera incorporates the latest in CMOS sensors, proprietary prism technology and advanced image processing to provide unprecedented colour accuracy, incredible resolution, and the world's smallest 3-chip package.
The key advantage here being of course the broadcast 4K output, which includes improved resolution, sharper details which can benefit many video applications from scientific imaging, life sciences, manufacturing, and defense industries, as well as professional broadcast applications.

Toshiba IK-4K UltraHD Features
3840 x 2160 50/59.94 Hz UltraHD 4K output
Switchable formats; 4K, 1080p and 1080i
Amazing details up to 1600 TV lines resolution
Ultra-compact 2 x piece design (IK-4KH head & IK-4KE controller)
4x 3G/HD-SDI output for maximum signal fidelity
12-channel colour adjustment to achieve exceptional colour accuracy and control
5 User-configurable settings files to support different operating modes and conditions
Image flip and mirror
Freeze frame
Genlock for 3D and multi-camera use
Remote control via RS232
C-mount lens mount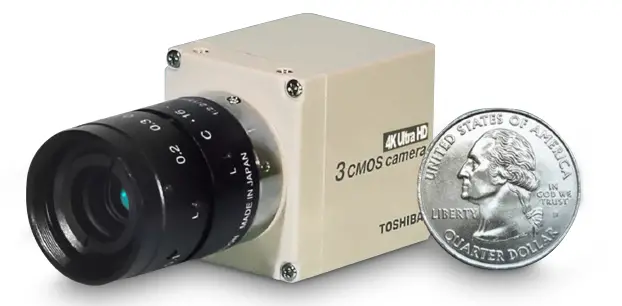 The Toshiba IK-4KH is the camera head, which does not feature any buttons or controllers, requires a separate unit controller – IK-4KE (pictured below) for camera control, power, and video output. The camera head is connected the controller via a serial port (cable length up to 15 meters) and the 4K at 3840 x 2160 output is achieved via 4x HD-SDI outputs from the camera controller. Here's a schematic of the 2 piece system.
[via Cinescopophilia]

Claim your copy of DAVINCI RESOLVE - SIMPLIFIED COURSE with 50% off! Get Instant Access!