The world of ultra slow-motion is usually reserved for specialised productions, industrial applications and big budget commercials/promos but not really limited to live events, incredibly creative music videos, and anything else in between as long as the budget allows for one. Cameras like the Phantom and Phantom 4K Flex from Vision Research are highly specialised tools and cost quite a bit of money, hence they are strictly an expensive rental option for productions. FOR-A launched their FT-ONE 4K variable frame rate slow-motion camera in 2012, and looks like they've been quite busy in the last couple of years getting the smaller FT-ONE-S version of the camera to market. NAB 2015 will be the North American debut of the FT-ONE-S 4K slow-motion camera.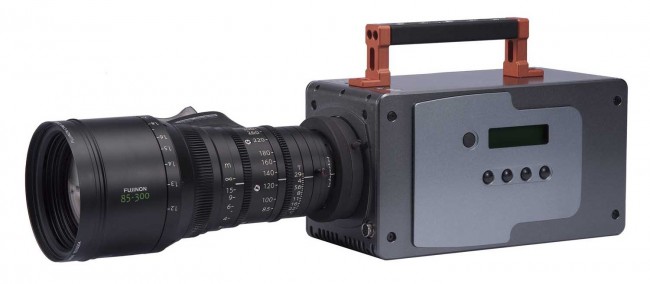 According to a recent FDTimes article, the FT-ONE-S features a Super 35 format CMOS sensor, UHD 3840 x 2160 recording up to 360fps and a built-in 12-axis color-correction for its video output. The camera works in a tandem with a base station that can be installed in a live truck and controls the camera, including tally signals and intercom functionality. Camera operators can shoot with the camera while tethered to the base station via optical cable at a distance of up to 1 km.
FT-ONE vs FT-ONE-S: Key Specs
FT-ONE
FT-ONE-S
Dimensions
232mm (W) x 294mm (H) x 393mm (D) (excluding protrusions)
180mm (W) × 197mm (H) × 290mm (D) (excluding protrusions)
Weight
7.5 kg (fully equipped with options: 8.6 kg)
5.5 kg
4K Video Output
3G-SDI (Level-A), 3840 × 2160, BNC × 4
Output formats: 1080/59.94p, 1080/50p
3G-SDI (Level-A), 3840 × 2160, BNC × 4
Output formats: 1080/59.94p, 1080/50p
Max frame rate/rec time
900fps/9.8 sec.
360fps/23.6 sec.

| Recording Frame Rate | Recording Time |
| --- | --- |
| 24 fps | 352.5 sec. |
| 60 fps | 141.7 sec. |
| 120 fps | 70.8 sec. |
| 180 fps | 47.2 sec. |
| 240 fps | 35.4 sec. |
| 300 fps | 28.3 sec. |
| 360 fps | 23.6 sec. |
The FT-ONE-S can match what its revered predecessor can will top out at 360fps as opposed to the insane 900fps high frame rate recording at 4K with the original FT-ONE. However, despite that fact, the smaller size will benefit many productions with the ability to be more mobile and capture shots faster. Smaller and lighter seems to the theme manufacturers are going with these days as they are clearly responding to the demand from cinematographers for smaller, more compact and versatile kits (see the ARRI Alexa Mini and the upcoming RED Weapon going the same route).
The shrinking of cameras has been a phenomenon for a while now, but not until recently have we been able to see specs like shooting 12-bit Raw and ProRes on SDXC cards in camera on something tiny as the Blackmagic Pocket Cinema camera or 4K internally on the Panasonic GH4. While those camera won't break the bank, the FOR-A FT-ONE slow-motion camera requires very deep pockets as prices start in excess of $95K.
Arch rivals ARRI and RED are going head-to-head for the large-sensor high end cinema camera market with their respective new offerings, with the Weapon being due for a full reveal at NAB while we saw the Alexa Mini announced at BVE 2015 in London last month.
It's also a sign that 4K live productions are picking up, as evidenced also by the fact that XI Media Productions, RED & Dell recently teamed up for the first ever 4K Live Streaming set of concerts from the Fader Fort stage at the SXSW Festival in Austin, Texas just in the last few days.
FOR-A have been quite about pricing and availability of the FT-ONE-S but we look forward to learning more from NAB in a couple of weeks. In the meantime head over to FOR-A for more "provisional" specs and details.
Claim your copy of DAVINCI RESOLVE - SIMPLIFIED COURSE with 50% off! Get Instant Access!