Last week we let you guys now about the new cine lenses that Rokinon was planning on releasing soon and as of today they are officially announced. The XEEN Cine lenses from Rokinon/Samyang (in the UK) share the same optical design as their Cine DS brethren, but don't be fooled – the XEEN are proper cine lenses. The latest Cine lenses from Rokinon come standard with 114mm front diameter, all metal housing, 200 degree focus rotation, dual focus marks, and also available in EF, Nikon, MFT, Sony E mount and most of all the highly desired cinema standard PL mount. The new lenses also feature new coatings, which theoretically should help reduce image artefacts. Lens guru Matthew Duclos has a really informative write-up on his blog – you should check it out here.
The XEEN Cine primes will cover full-frame sensors like the one on the Sony A7s and Canon 5D Mark III and also resolve 4K and 5K resolutions. Currently, the first three focal lengths available will be the 24mm, 50mm, and the 85mm all at T1.5. The rest of the line-up, if I had to guess, will be supplemented by a 14mm, 35mm, and a 100mm macro version ported from the Cine DS line, but again in a proper cine housing like the rest of the XEEN line-up.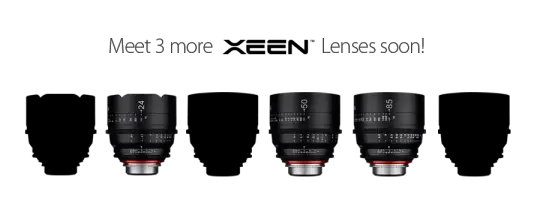 B&H have also just shared their first hands-on experience with the new XEEN Cine Primes.
For further chart tests and the full write up – visit their blog here.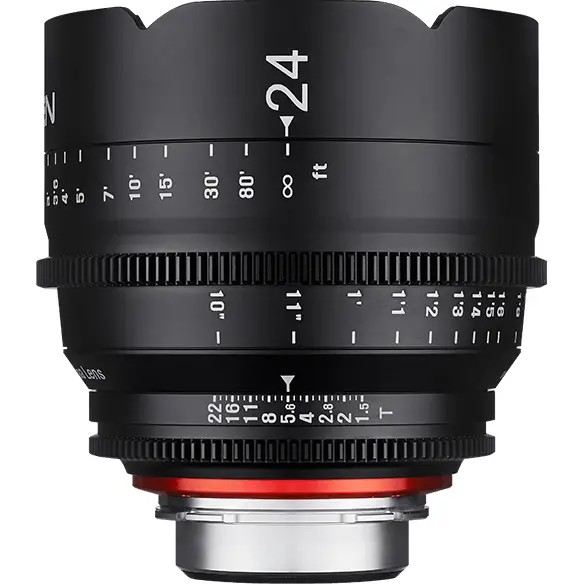 Features
24mm/50mm/85mm Lens Covers Full-Frame Sensors
Internal Focus Design
Full Manual Focus (No Auto focus)
Multi-Coating for Color Consistency
Dual Side Focus and T-Stop Scales
11 Blade Iris
Cinema Gearing for Focus and Iris
200° Focus Rotation
114mm Front Diameter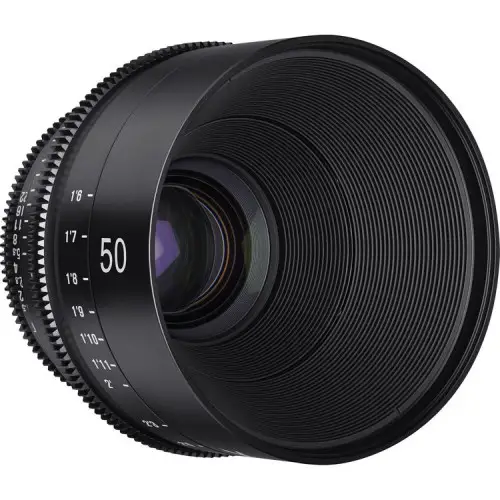 Here are the newly release full specs of the XEEN Cine Primes
Focal length
24mm
50mm
85mm
Maximum T-stop
T1.5
T1.5
T1.5
Negative size
24 mm X 36 mm
24 mm X  36 mm
24 mm X 36 mm
Angle of view
Full Frame(1:1x)
84.1°
46.2°
28.4°
Super 35
61.2°
31.2°
19.0°
APS-C (1:1.5x)
60.4°
30.8°
18.7°
APS-C (1:1.6x)
57.3°
29.0°
17.7°
Micro Four Thirds (1:2x)
47.6°
23.6°
14.4°
Focusing range
∞ to 0.25 m
∞ to 0.45 m
∞ to 1.12 m
Front size
Φ114mm
Number of blades
11
11
11
Size
PL
Φ117.6mm x 113.7mm
Canon EF
Φ117.6mm x 121.7mm
Nikon F
Φ117.6mm x 119.2mm
Sony E
Φ117.6mm x 147.7mm
Micro Four Thirds
Φ117.6mm x 146.5mm
Angle
Focus angle
200°
Iris angle
40°
Weight
(without Lens cap)
PL
1,180g
1,160g
1,245g
Canon EF
1,180g
1,160g
1,245g
Nikon F
1,135g
1,115g
1,200g
Sony E
1,185g
1,165g
1,250g
Micro Four Thirds
1,185g
1,165g
1,250g
Here's a little lens comparison test our friends at Film Cyfrowy sent us, in which the Rokinon XEEN 50mm is compared to the Zeiss CP.2 and Canon L series equivalent.
50mm – SAMYANG XEEN vs ZEISS STD vs CANON L from Film Cyfrowy on Vimeo.
The XEEN Cine lenses from Rokinon/Samyang are expected to ship August 13th and sell for $2,495 a piece in the US and £1,999 in the UK. The XEEN do offer substantial savings over rival Canon CN-E primes (about $4,500), Zeiss CP.2 (on par price wise with the Canon CN-E's), Schneider Xenon's ($4,000 – $5,750 each), but whether they'll justify the price bump over the Cine DS line is yet to be determined.
Then there are also Italian makers Lock Circle, who have a really beautiful line of Cine primes they call the XM line (based on older Zeiss Distagons), read about them here, which seem to cost about the same as the new XEEN… It would be nice to see how the Lock Circle XM perform against the XEEN's.
B&H Links:
Xeen 24mm T1.5 Lens for Canon EF Mount / MFT / Nikon / Sony E / PL mount
Xeen 50mm T1.5 Lens for Canon EF Mount / MFT / Nikon / Sony E / PL mount
Xeen 85mm T1.5 Lens for Canon EF Mount / MFT / Nikon / Sony E / PL mount
Claim your copy of DAVINCI RESOLVE - SIMPLIFIED COURSE with 50% off! Get Instant Access!