FilmPower made the single hand/pistol grip gimbals popular in the filmmaking community with their highly successful Nebula 4000 3-axis gimbal stabiliser. The Nebula 4000 success quickly spawned a few competing products namely the Pilotfly H1 and the upgraded H1+ model, the CAME-TV Single and the MiniSturdy Flight. Just earlier today the company teased a photo of a brand new stabiliser they are working on called the Nebula 4200, which ups the ante by adding 5-axis stabilisation, tool-less balancing and support for DSLR style camera/lens combos of up to 1.6kg / 3.4 lbs. Detailed information on all features and specs of the Nebula 4200 are skim at the moment, but here is what we know so far from their social media posts.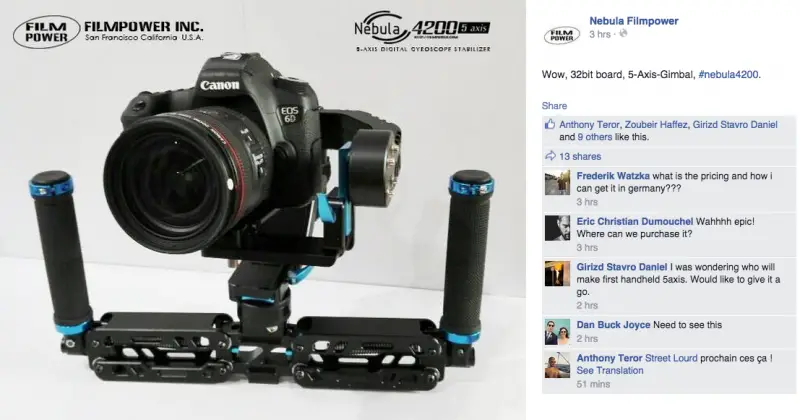 Filmpower Inc. will soon be releasing two or three new, revolutionary products.The details to be disclosed soon. @a7Susers @BMPCC_User

— NEBULA STABILIZER (@chdntech) August 26, 2015
Nebula 4200 5-Axis Gyro Stabiliser
5-axis stabilisation – vertical / horizontal / pitch / roll / yaw
32-bit controllers
Single and Double Handle Operation
Support for DSLRs/Mirrorless cameras
Maximum payload of 1.6 kg
Wireless controller
Tool-less Balance
Bluetooth Capability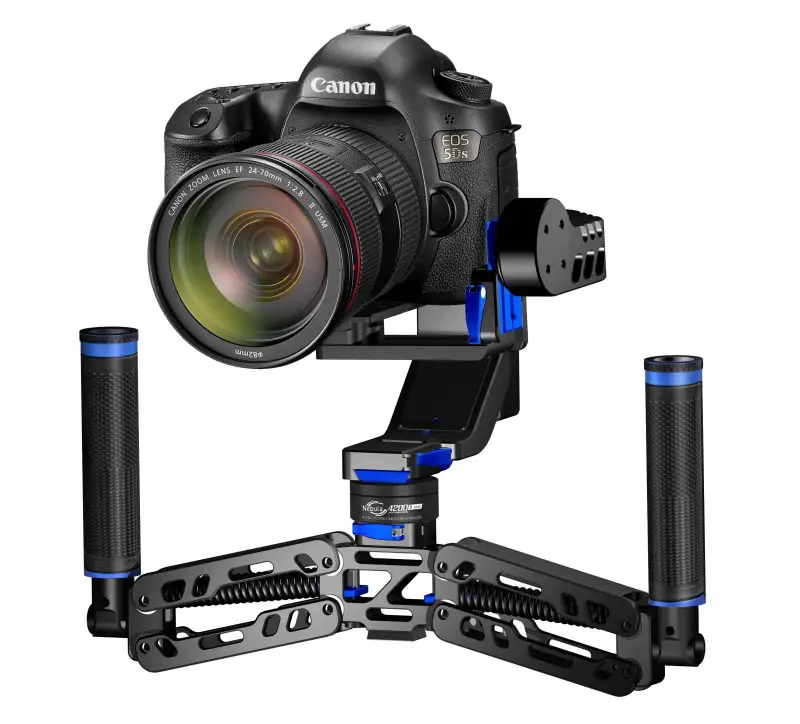 The advantage of having vertical stabilisation is that it will help eliminate the vertical bumps from footsteps when running or walking with these kind of stabilisers. Vertical stabilisation is usually a feature exclusive to Steadicam devices with a vest and specialised iso-elastic arms, which require specialised training and are not cheap. In addition, the tool-less balancing will alleviate a lot of the hassle associated with balancing.
The 32bit controllers enable bigger motors which in fact can hold more weight hence the bump to 1.6kg so those who want to use some heavier lenses – good news for you. Pricing and availability have not been yet revealed, but if the Nebula 4000 is to be an indication, this one would probably priced below $1,000. Cameras like the Sony A7s, the new A7R II, the Panasonic GH4 and the heavier 5D Mark III shouldn't be a problem for the Nebula 4200, given the spec.
We can't wait to hear more about this gimbal and share it with you. In the meantime, check out some awesome footage shot with the current Nebula 4000 model which is on sale for $599 at B&H ($100 of regular price)
Cinematic Test: a7s on Nebula 4000 lite from Marcus Joseph (Producer) on Vimeo.
Nebula 4000 + rx100 III test and review from Simon Guyomard | Spoon on Vimeo.
B&H Links:
Nebula 4000lite 3-Axis Brushless Handheld Gimbal Stabilizer – $599
Nebula 4000lite 3-Axis Brushless Handheld Gimbal Stabilizer with Battery Pack – $769
Disclaimer: As an Amazon Associate partner and participant in B&H and Adorama Affiliate programmes, we earn a small comission from each purchase made through the affiliate links listed above at no additional cost to you.
Claim your copy of DAVINCI RESOLVE - SIMPLIFIED COURSE with 50% off! Get Instant Access!