As the latest ARRI ALEXA LF starts to make its way to market, rental houses and big production companies, who've invested (or are about to invest) into the latest and greatest native 4K camera that ARRI has made, important considerations such as lenses, workflow and power requirements start to mount as well. While the HDR workflow may sound intimidating at first, ARRI are pretty good at standardizing their workflow and editors and post-houses know how to work with ARRI footage – it has been the gold standard for many years, and everyone working at that level is familiar with it.
Cine lenses with FF (Large Format) coverage may not be such a huge issue either as there are quite a few full-frame pro glass options out there – Leica Thalia lenses, Sigma HS Cine Primes, Tokina Vista Vision Cine Primes, and of course ARRI's own Signature Primes, which are rolling out slowly as well, in addition to a few other options.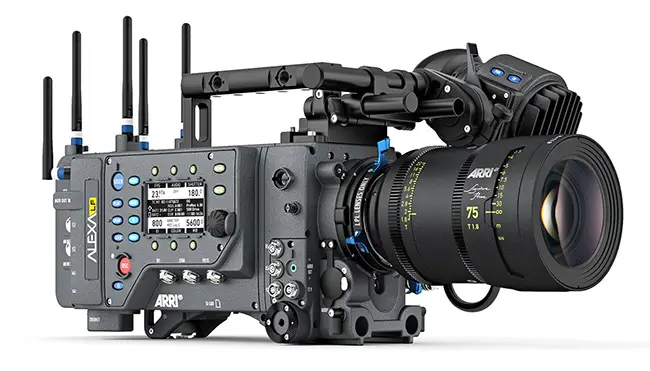 However, when it comes to power, a very important consideration that is often left to the last minute before a shoot, the ARRI Alexa LF as its SXT and SXT W siblings require plenty of juice (not to mention the ALEXA 65). These are big, heavy, power hungry cameras that produce incredible images, however they need big batteries able to send a powerful stream of electricity to power all the gadgetry inside responsible for capturing the image.
In particular, the latest ALEXA LF requires more power than previous ALEXA cameras (SXT, SXT W, Mini etc.) drawing the monstrous 120W to 160W of power when recording depending on codec and resolution plus accessories attached. Ouch! You're gonna need some seriously powerful batteries for on-board power. The higher resolution and more powerful internal components required that ARRI change the power input on the LF from 12v to 19.5 – 34V, automatically making current 12V Gold Mount and V-mount adapters "obsolete" (see what I did there… sorry, I'll stop now. Thank you.)
However, according to ARRI you're still good using existing 24v block batteries via the LF BAT input. On the other hand, if you want to go handheld and not tether to a huge block battery – then you need to look towards Hawk-Woods and their new H-Series Reel Power 26v batteries.
UK-based Hawk-Woods have been making battery solutions for many years for all sorts of cameras and accessories – from compact pro cameras to large shoulder mount cameras and high power draw digital cinema cameras such as the ALEXA lineup. For those of interested in their Hawk-Woods Mini V-lok batteries, you can check out my interview I did with Jason from Hawk-Woods at BSC Expo in this post here.
Their Hawk-Woods Reel-Power H-Series 26 volt batteries are the first on-board batteries to be approved for ARRI LF use! The RP batteries from Hawk-Woods offer use four contacts to carry the power making them very reliable in their power transmission as opposed to many 14v systems that rely simply on two and prone to reliability issues.
Reel-Power batteries (as Hawk-Woods likes to refer to them for short) are suitable for both 24v cameras and lighting up to 10Amps = 250Watts!
And the great news for ARRI camera users is that the RP batteries from Hawk-woods has been tested and approved by ARRI, who's ARRI Rental division has been using them for 5 years. The H-Series Reel-Power batteries range from a 100W/h to a whopping 350W/h capacities! It is worth to point out that only the 200Wh/250Wh and the big RP-350N (350Wh) are recommended for ALEXA LF use.
The RP-350N, which is the latest addition to the range supports the longest run-time from any single on board battery providing over 180min of run time.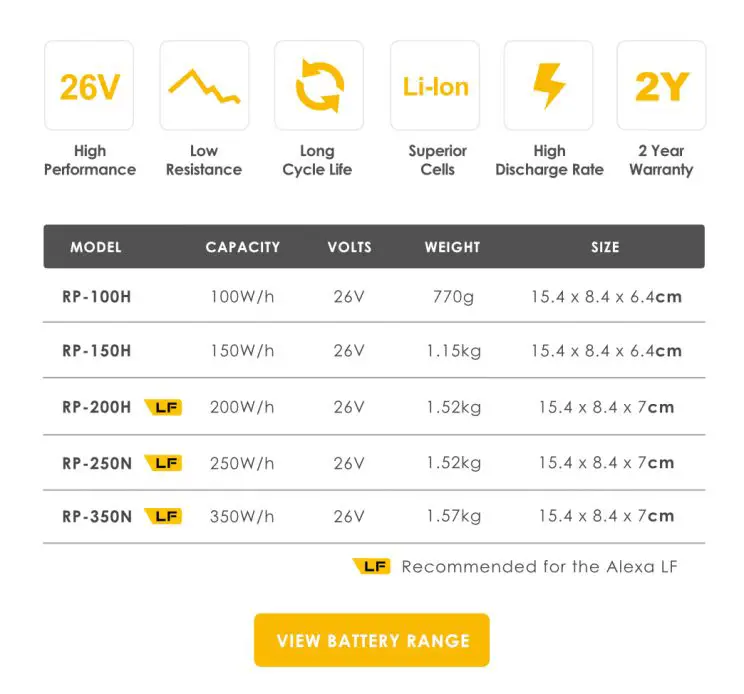 Hawk-Woods RP (Reel-Power) H Series Highlights 
26v battery system for high voltage cameras:

Recommended for ARRI LF, SXT, SXT W, MINI, ALEXA 65

High Discharge Rate
Low resistance cell technology for improved battery life
Long-Cycle Life
Built-in LED gauge
Hawk-Woods Superior Cell Technology and Build Quality
Built-in Total Battery Protection system
2 Year warranty
Warranty can be extended by a year!
Pricing starts at:

£360 + VAT for the RP-100H
£485 + VAT for the RP-200H
Hawk-Woods are priding themselves with the fact that they have been supporting ARRI with Reel Power onboard 26v batteries for over 5 years, making their RP system a proven power solution which has been used across their existing cameras such as the ALEXA 65. Using a 14v system, you would need 2 x batteries on an adaptor to provide any power to the camera, due to the LF's minimum voltage requirement of 19.5v, this is adding extra weight without including a dual battery plate AKA "T-Plate or Shark Fin".
With a 26v system, there is a single direct fitting RP-CFA1which mounts to the LF and works across existing ALEXA camera's keeping this system as universal as possible. The adaptor offers two 3 pin Fischer connectors which can power further accessories direct off the batteries nominal voltage.
Some of the benefits of using a 26v battery over a duo of 14v ones, is that with higher voltage you are demanding less current from the battery. In addition, according to Hawk-woods, using a 26v battery vs the same capacity but in 14v will note necessarily run the camera for longer however, over a period the 26v battery would outrun any 14v battery (which started off at the same capacity) as the 14v battery will have to work a lot harder to power the camera.
In addition cell deuteriation would occur (i.e. not good for the battery) making a 26v Reel Power batteries a better and safe choice in the long run.
For more details and how to order head over to Hawk-Woods.
Claim your copy of DAVINCI RESOLVE - SIMPLIFIED COURSE with 50% off! Get Instant Access!